Back
Dean Wendt
Voice Actor
Dean is heard in stores around the globe as the voice of AT&T. He has 20 years experience in the industry.
Barney
As in, the voice of Barney the Purple Dinosaur
Overview
Award-winning international Voice Artist Dean Wendt has been described as the next new voice. He is conversational, believable, friendly, and real. Dean has completed quite a bit of national work with Voices, and he is heard in stores around the globe as the voice of AT&T. With over 20 years experience in the industry, his clients include, ABC, Seaworld, Taco Bell, Mattel, and so many more.
Did we mention that Dean is also the voice of Barney the Dinosaur and one of the founders of Disney Radio?
Before Voices
In college, Dean was voicing for radio. After graduation, he started to add commercials to his work. That was in 1986. Needless to say, prior to joining Voices as a Platinum member six years ago, Dean was finding freelance voice work the old-fashioned way; sending emails to advertising firms and production studios.
A friend told Dean about Voices. When he checked it out, he realized the platform was a great, efficient way to find auditions.
"Voices opened the door to auditioning. Actually, a lot of auditioning. It's a great source for a voice over professional."
With Voices
Obviously, Voices made connecting with the right people and projects easier for Dean. However, an unexpected benefit for him was that the platform also helps him stay up-to-date on what clients are looking for via the variety of posted jobs and project feedback.
According to Dean, one of his favorite things about Voices is the staff: "They are so helpful and friendly. [They're a] great bunch of people!" He also enjoys the security aspect of the company's escrow service.
"I love the escrow part of Voices. I have worked on other voice over sites, and some clients just never pay. With Voices, I know I will always be taken care of."
In a week, Dean auditions a lot. Whenever this busy, in-demand talent is not recording, he's auditioning; with nearly 50,000 demo listens on his profile, it's a sign that he's on to something! On average, Dean books about 2 jobs a week, which can be for everything from elearning projects to car ads and television commercials. He really does it all, with no sign of slowing down anytime soon.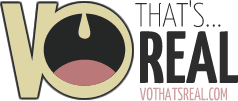 Learn More About Dean
Contact him or listen to more of his work on his profile
More Stories from Voices Talent
Emily Flegal
Voice Actor
"Working in the voice over industry has been the biggest blessing in my life."
Read Their Story
Spencer Cannon
Voice Actor
Spencer's journey as a voice over artist began with a fierce passion for video games and animation, love for sound.
Read Their Story
Rachael Sparrow
Voice Actor
Rachael's fun and conversational tone has narrated projects for some of the world's biggest brands.
Read Their Story