Back
Eric Wibbelsmann
Voice Actor
Eric Wibbelsmann is a voice over actor, musician, and visual artist based in California.
119+
projects booked to date
25+
year as a professional musician
Overview
Eric Wibbelsmann is a voice over actor, musician, and visual artist based in California. He is also a guitarist and songwriter in the rock band, ROCKET, named in 2016 as one of the "Best Bands to Catch" by CBS Los Angeles. In 2017, Eric's passion for music and the guitar gave way to a new creative outlet: Six String Creations. In this artistic endeavour, Eric breathes new life into old, discarded, and otherwise forgotten guitars by transforming them into works of art.
A voice over actor of more than nine years, Eric has worked with such brands as Toyota, State Farm, and American Express.
Before Voices
Having been involved with music and the arts scene for most of his life, becoming a voice actor in 2009 felt like a natural step for Eric. Voice over jobs came from a variety of sources, trickling in from word-of-mouth referrals, relationships with existing and repeat clients, regional agents, and online posting forums.
As his passion for voice over grew and his natural talent and ability began to shine, Eric knew that to take his career to the next level, he needed a pipeline that was more consistent and reliable. That's when he decided to sign up for a membership with Voices.
"I had several friends who were on Voices. They had great things to say about the platform and the volume of quality clients using the service. They were booking some very solid projects and were auditioning about ten times more than I was. I decided to jump in and give it a shot for myself."
With Voices
Since joining Voices, finding high profile clients and a steady flow of work has been easy. A skilled and well-rounded performer, Eric submits himself for a vast spectrum of jobs, from those looking for a friendly and conversational guy-next-door, to casting calls for a deep, commanding voice with a touch of grit.
Through his profile on Voices, Eric has voiced work for many internationally recognized brands including Fisher Price, Philips, Hershey's, RXBAR, and AT&T, to name a few.
Voices has allowed Eric to effectively showcase his versatile voice talents and source work from a wide range of clients. He credits "the clear, concise platform" with organizing his audition process and exponentially increasing the volume of potential projects.
Eric's work with Voices helps to support his creative lifestyle and various artistic endeavours. A true professional, Eric is committed to delivering the best possible work for every client, and has earned a solid five-star rating through his impressive voice, exceptional service, and passionate artistry.
"I get to do what I love, and for so many amazing clients. I'm very grateful!"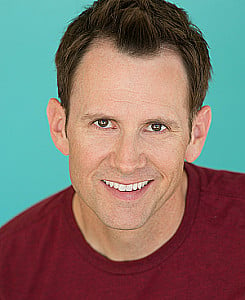 Learn More About Eric
Contact him or listen to more of his work on his profile
More Stories from Voices Talent
Emily Flegal
Voice Actor
"Working in the voice over industry has been the biggest blessing in my life."
Read Their Story
Spencer Cannon
Voice Actor
Spencer's journey as a voice over artist began with a fierce passion for video games and animation, love for sound.
Read Their Story
Rachael Sparrow
Voice Actor
Rachael's fun and conversational tone has narrated projects for some of the world's biggest brands.
Read Their Story