Back
Bryan Carmody
Voice Actor
Bryan's Journey to finding meaningful work led him to a career in voice over.
100+
Jobs Completed on Voices
Overview
Finding meaningful work, regardless of your profession, is something many of us strive for. A career in voice over provides many people with opportunities to lend their voice to impactful projects every single day.
Voice actor Bryan Carmody finds meaning in his career through a multitude of ways, but at the top of that list is his connection to the projects he lands and the content creators behind them. "The joy I get from this job is the incredibly talented and brilliant content creators I get the chance to work with," he explains.
Being a voice actor is also about being honest with yourself as you read through creative briefs and scripts. Auditioning for jobs that feel right for you should come after that honest reflection. Once a voice actor pieces that together, they have control over where their voice is featured and what it stands for.
Choosing what jobs to audition for is an aspect of control that Bryan fully embraces. "I make my decision to submit an audition to a job primarily by the quality of the copy," he says. Content creators who take the time to craft stellar scripts are the creators Bryan is drawn to.
"When I get to be part of something really well done—or be the messenger for something that's really important to us as Human Beings—like the fundraising spot for Texas A&M—man that's when I really love it."
Meaningful Voice Over Work: Texas A&M Foundation Education Fundraiser
The Texas A&M Foundation raised $4.25 Billion with the help of Bryan's voice. The foundation set out to raise funds for first-generation university students' education fees. In the home stretch of a 9-year campaign, The Texas A&M Foundation posted a voice over job on Voices for an online video spot with a compelling script that was just right for Bryan. He provided the voice over for one of the last videos of the campaign as well as the campaign's finale video, showcasing the results of the fundraiser and capturing the essence of what it means to attend Texas A&M.
A Story of Risk and Reward
Bryan got his start in voice over following some soul searching after spending 25 years in a corporate setting. The fact of the matter was that, while it would be scary to try something new, it was something he knew he would be 100% in control of.
"I had always thought that my biggest gripe about my job was that I was just a number. But it wasn't the number that was the problem. It was the fact that it wasn't MY number."
"Nothing changed when I changed jobs except the fact that I was starting at ZERO dollars coming in. But I'd rather be 100% in control of zero than have no control over a million."
Bryan's matter-of-fact approach to life comes from his grandfather's influence. "In a lot of ways, my grandfather was my biggest role model. He instilled in me the core values I execute every day: Don't just work hard—work with intensity, focus, and consistency."
Bryan dabbled in voice over as early as 2000, but launched himself into full time VO in 2015 when he got a talent agent and a Voices profile. In less than a year he was ranking on the Voices Leaderboard.
"I haven't looked back since," Bryan said.
Meaningful Voice Over Work: A Personal Honoring
Among the many projects Bryan has voiced, he's voiced the National Cattlemen's Beef Association's (NCBA) "Beef, It's What's for Dinner" campaign. It's an all time favorite project for Bryan because of what the association means to him personally.
"While I wasn't ever planning on being a farmer, I always had thought that I'd be able to honor my grandfather's hard work as a Cattle Farmer. I had the realization that I could still honor his legacy and hard work by voicing something he cared deeply about—the NCBA's mission and vision."
"It's become a way to honor my grandfather in a way I never thought possible."
Bryan's Advice to Up and Coming Voice Actors
When Bryan shares his perspective on working in the voice over industry, there's an emphasis on control. The perks of the career choice include having control over your hours, what jobs you audition for, what you want to earn, and more. But Bryan extends advice about using a sense of control to pace and protect yourself from burnout, too.
"Focus on what you know and what you control," he says. "Don't worry about anyone else's work, do yours to the best of your ability and when the rewards come in, don't stop—take that as a cue to get back at it."
Like any performing arts professionals, voice actors experience a lot of rejection. Being able to persist through the rejection and stay the course with conviction, especially when you start booking work, is a skill voice actors develop over time.
Bryan explains that the job of a voice actor is to audition, audition, audition. "Ship it and flip it," he says. Meaning, never linger on a project for too long. Perform the audition as best you can with what direction you're provided, touch it up, and send it out. "Then do that again. The audition IS the job." That process helps to keep voice actors from dwelling on a project too long and keeps it all at arm's length. Bryan's approach does exactly that. "If I didn't make it happen well, it didn't happen. Tomorrow's another day." It's easy to maintain that outlook when you've been raised by the values to wake up and work hard for yourself regardless of what happened yesterday. Bryan's grandfather taught him there's nothing to dwell on if you know you've tried your best.
"As my grandfather used to say: Pull those weeds, Tommy—don't pick 'em. They'll just come right back if you don't get to the root. Life's too short to pick at the weeds, worrying."
Lastly, as his work ethic and core values allude to, Bryan shares the realities behind booking voice over work:
"This is not some "magic" job. It's like any other job. It takes work, consistent improvement, and commitment to making something happen."
Opportunities and Challenges Abound in Voice Over Work
There is a fine balance between sticking to what you know and being open to learning more and expanding your horizons.
Once you reach a point where you know what your wheelhouse is, you can begin to challenge yourself by auditioning for different types of jobs to see if a more diverse skillset is something you can develop. Such is the case for Bryan. For him, the bread and butter is in auditioning for the jobs that have well-written scripts and make sense for his voice. He's now reached a point where he can welcome new challenges in other categories of voice over. Namely, audiobook narration.
"Audiobooks have always been one of my favorite mediums for voice work, but I don't pursue them much because, well, they are kind of a 'high art' in my opinion and something like theater that takes a real focus. As such, I don't audition for audiobooks and have been holding out for the right project–—this being my first. The book is called "On Distant Service" by Susan M. Stein."
"It's one of the most challenging projects to date for me as it requires a different kind of focus," Bryan admits. "It was, however, like every other job in the ways that matter—I submitted an audition to the author, and due to her incredible writing style, I deeply connected with the story."
Become a Voice Actor to Find Meaningful Work
Oftentimes, the reasons to pursue a career as a freelance voice actor vary from person to person. But one thing we hear across the board is that this is where people find meaning in their work in more ways than they can count. It all starts with a plan and a leap of faith.
Learn more about what a career in voice over looks like in our Beginner's Guide to Voice Acting.
As Bryan says, "All the most expensive gear in the world doesn't make a sound without YOU. Before you spend money on a bunch of gear, spend money on something that gives you the only thing you need: Someone else's words that need to be heard. That's the first tool you begin a voice over career with that has true value."
If you're ready to dive in and find those voice over jobs, sign up for a Voices Premium account today.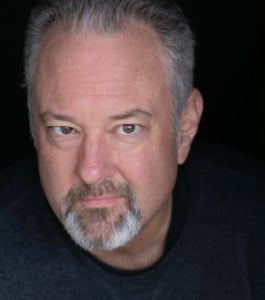 Learn More About Bryan
Contact him or listen to more of his work on his profile